Artists' Books Residency
guest curated by Jo Melvin, in collaboration with Viaindustriae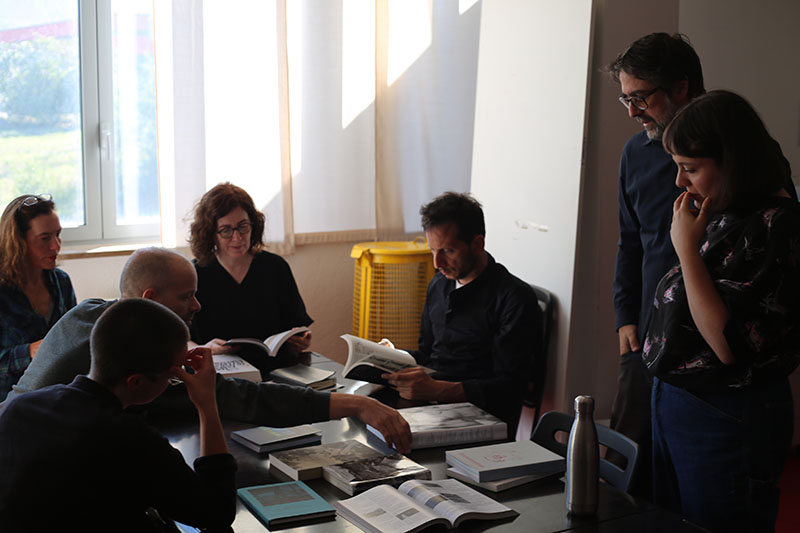 To view the full symposium and public program listings please click here>>
Residency Session
3-30 September
Symposium
26 and 28 September
Public program
29-30 September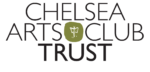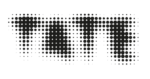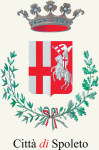 The Artists' Books residency, symposium and public program, guest curated by Jo Melvin, Reader in Archives and Special Collections at Chelsea College of Arts, UAL, London, stemmed from interactions with a unique artists' books collection, owned by former textile-manufacturer Primo De Donno, and the connected Viaindustriae Archive in Foligno (managed by Emanuele De Donno).
De Donno's extensive collection of artists' books begins with Italian Futurism and includes Fortunato Depero's 1927 masterwork Depero Futurista. As well as books, De Donno has contextualised his collection with related artworks, furniture and ephemera, creating a unique cultural map which facilitates research and teaching.
The fulltime residents were not asked to respond directly to the collection, but could use it as a resource throughout the session. In residence throughout the month were:
Lindsay Aveilhé (Artifex Press)
Lina Hermsdorf (Artist)
Sean Lynch (Artist),
Giovanni Rendina (Curator)
Anthony Tremlett (Curator)
Viaindustriae, Foligno initiated a call for two Italian guest artists/curators under the umbrella of the residency program 'manufatto in situ or/and InbookOUTbookIFbook'. The selected participants are:
Jacopo Rinaldi (Artist)
Federico Antonini (Graphic designer)
In the final week, the residents were joined by more artists, curators, writers, publishers and designers – we numbered close to twenty – to participate in a week-long symposium and public program: An itinerary of open conversations, dialogues and excursions, including visits to the De Donno collection and hikes, as well as performances and exhibitions:
Julian Bittiner (Graphic designer, Yale University School of Art)
Eloise Bennett (Writer, Tate / University of Edinburgh / Edinburgh College of Art)
Emanuele De Donno (Curator and publisher, Viaindustriae)
James Hoff (Artist and publisher, Primary Information)
Karen Di Franco (Curator and researcher, Tate and University of Reading)
Gertrude Gibbons (Writer and publisher, Soanyway)
Jeffrey Isaac (Artist)
Jo Melvin (Writer & curator)
Joanna Pocock (Writer)
Riccardo Venturi (Writer and Curator)
Grace Weir (Artist)
Holly Willats (Publisher and Curator, Art Licks)
RAM Radioartemobile joined the symposium and public program and are producing a series of radio shows. A special edition of the online magazine Soanyway will be published in January to document the many events and conversations that took place.
The program was supported by a Chelsea Arts Club Trust, Barry Flanagan Curatorial Award. We are grateful to the following organisations for their support of individual residents: Artifex Press (Lindsay Aveilhé), Culture Ireland (Sean Lynch and Grace Weir), Yale School of Art (Julian Bittiner), Tate (Eloise Bennett) and Fitzcarraldo Editions (Joanna Pocock). We would also like to thank Valentina Bonomo, Franco Troiani (Studio A'87), and the Comune di Spoleto for their essential support.
As a prolific bookmaker and a co-founder of the Printed Matter bookstore in New York, Sol LeWitt is closely identified with the book as an art form. In 2015, its inaugural year, the Mahler & LeWitt Studios hosted an art book fair in Spoleto, the Copeland Book Market, which built on previous work in the subject area by the Anna Mahler Association (www.annamahler.org).
Keep scrolling down for participant biographies.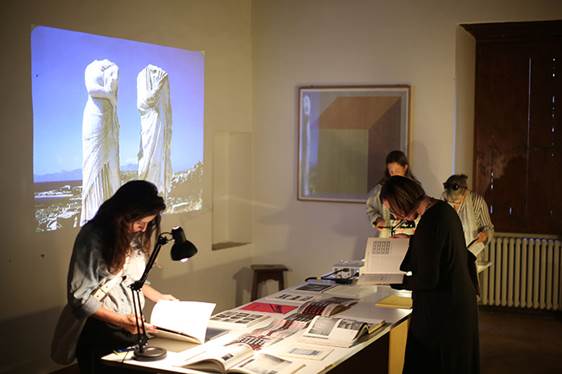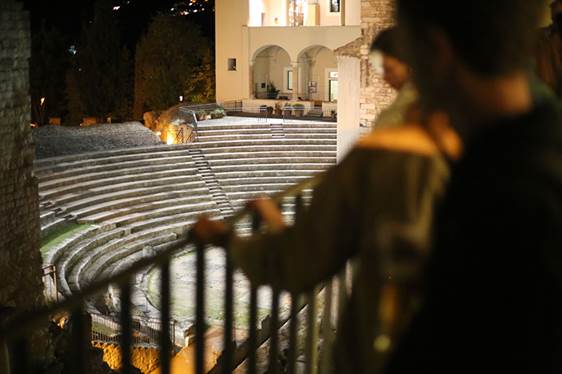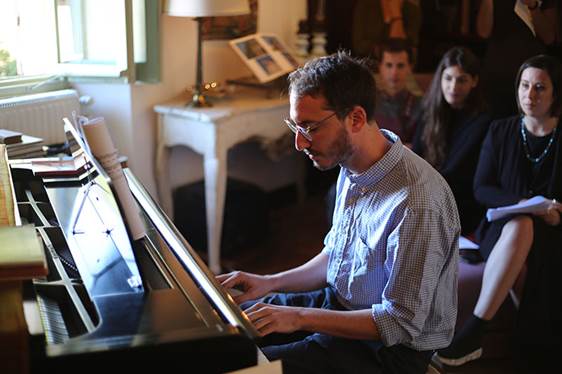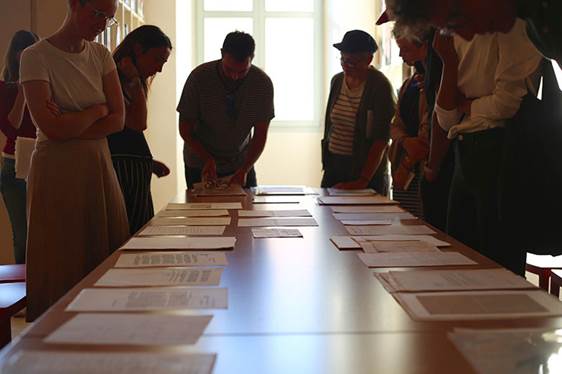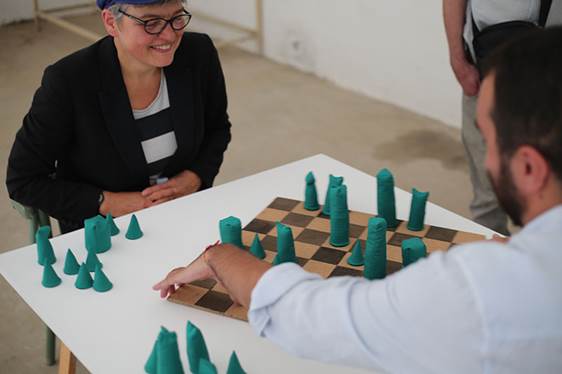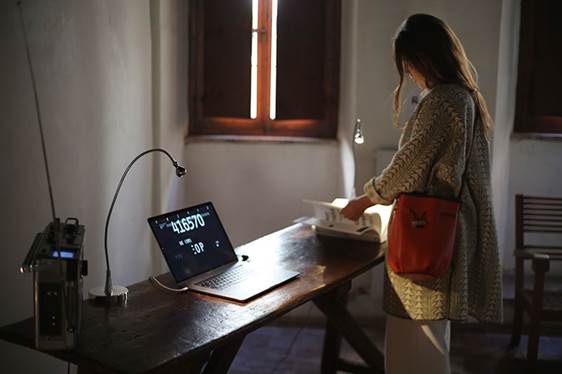 Top, left to right: An exhibition of books, in the LeWitt studios; Lina Hermsdorf, artist-in-residence, developed a sound installation for the Teatro Romano in Spoleto; Federico Antonino developed a new musical composition during his residency, a further iteration of 'Baldessari sings LeWitt', it was played on the piano at Casa Mahler.
Bottom, left to right: Curator-in-residence Giovanni Rendina taking his colleagues through the Giovanni Carandente archive; Jo Melvin, guest curator, plays a Barry Flanagan soft-sculpture chess set with Giovanni; A visitor to Tony Tremlett's exhibition for the Artists' Books public program, with Nicolas Jaar for the Torre Bonomo.
Participant Biographies
Jo Melvin is a curator and writer, Reader in Archives and Special Collections at Chelsea College of Arts, UAL, London and Director of the Estate of Barry Flanagan. Recent exhibition projects include 'The Hare as Metaphor: Barry Flanagan' Paul Kasmin Gallery, New York 2018, 'Sculptureless Sculpture' Rome, 2018 with Vittoria Bonifati, Grace Weir 'unfold' Laure Genillard Gallery, (2017) 'fifteen people present their favourite book', Spoleto, Italy (2017) 'Barry Flanagan Light Pieces and other works' & Model, Leeds, (2017) 'Christine Kozlov: Information No Theory' Henry Moore Institute, Leeds, (2015) 'The Xerox Book', Paula Cooper Gallery, New York, (2015) 'Five Issues of Studio International' Raven Row, London (2015). She is guest curator with the Mahler & LeWitt Studios, Spoleto, Italy, and devising an artist publication and publication-as-exhibition project in collaboration with Viaindustriae,Folignio and with Radio Arte Mobile, Rome and with The Brooklyn Rail, Brooklyn, USA 2018-2019. Earlier this year she organised and contributed to a symposium held at Chelsea, UAL, 'Women in Conceptual Art'. 2018 publications include essays on Keith Milow, Ian Davenport, Helio Oiticica, David Nash and contributions to 'The Order of Things' organized by Andrew Bick and 'The Annotated Sax Compendia' artist book project conceived by Ryan Gander and Jonathan Watts. Forthcoming is TOMO/TOME artists' writings bilingual (English and Italian) magazine will launch with the first publication of a lecture given by Sol LeWitt at Nova Scotia School of Art and Design in 1970. (Ed panel include Emanuele De Donno, Adelaide Cioni and Cecilia Casorati).
Viaindustriae is a non-profit organization and a collective, active since 2005, developing contemporary art projects – publications, residencies, exhibitions and events – which respond to educational needs and conceive cultural projects as a creative, modular and open practice that can be inclusive and socially permeable. It is based in Foligno, Italy, in a former clothing factory. With its practice, it aims at investigating the intermediate territories between art and architecture, off-media publishing. Viaindustriae establishes a relationship with artists who seeks to engage with and enhance co-operation and co-generative instances of artistic production.
RAM radioartemobile has a close association with Zerynthia, Contemporary Art Association, and is based in Rome and Milan. They curate, promote and organise contemporary art events in Italy and abroad, maintaining an experimental ethos in order to extend the experience and definitions of art and to develop new audiences. Zerynthia, meanwhile, presents itself as a light and flexible structure capable of acting as a complementary model to institutional cultural structures. Zerynthia publishes catalogues and books as well as producing editions with artists. The President of Zerynthia is Mario Pieroni.
Federico Antonini is a graphic designer and independent researcher. At the centre of his research is the relationship between conceptual art and book design, changes of status in visual information and the specificities of (re)production means.
Lindsay Aveilhé is Editor of the Sol LeWitt Wall Drawings Catalogue Raisonné, published in 2018 by Artifex Press. The catalogue is the definitive publication of LeWitt's most celebrated body of work, and includes previously unrecorded wall drawings as well as previously unpublished installation histories, photography, and multimedia. She has been researching Sol LeWitt's wall drawings and collaborating with the Estate of Sol LeWitt since 2012. During that time, Aveilhé curated 'Sol LeWitt and Lucy McKenzie'at the Artist's Institute and 'Another Place'at 205 Hudson Street Gallery, Hunter College. Recently, in her capacity as Editor, she has presented on various topics related to research on the catalogue raisonné at ARLIS, NY (2018), Association of Art Historians Annual Conference, UK (2018), and Pratt Institute, NY (2017). Forthcoming panels and presentations will take place at Appraisers Association of America, New York (2018), FLAT Art Book Fair, Turin (2018), and HEAD – Genève (2019).
Eloise Bennett is studying for a PhD at Edinburgh College of Art on the topic of 'Intermediality: the transformation of art and literature in the international avant-garde, 1945-1975'. Her project takes as its central material the collection of Nimai Chatterji (1933-2010), acquired by the Tate Archive in 2006. The collection was assembled to elucidate and connect, as well as record and document, the twentieth century 'avant-gardes'. The Chatterji archive is a chaotic repository – now almost catalogued – which comprises handwritten notes and annotations, letters, artists' books, magazines, journals and ephemera which record spaces, events and artistic experimentation. The project is supervised by Professor Neil Cox, University of Edinburgh, and Adrian Glew, Archivist, Tate Britain. Her residency in Spoleto is supported by Tate, and her wider research is supported by the Arts and Humanities Research Councils' Collaborative Doctoral Partnership scheme.
Julian Bittiner is an independent designer based in New York, originally from Geneva, Switzerland. He received a B.F.A. in fine art from Art Center College of Design in 1995 and an M.F.A. in graphic design from Yale School of Art in 2008. His typographically-inflected studio practice centers around a search for meaningful new graphic forms rooted in a specific time and place. Working closely with artists, curators, and small institutions on a variety of projects across media, recent commissions have come from Michael Stipe, Jonathan Berger, 8oWSE gallery, Adams and Ollman gallery, and the Center for Comparative Media at Columbia University. Work and/or writing have appeared in 'Taking a Line for a Walk: Assignments in Design', Poster Tribune, 'Introducing Culture Identities', The Meander, Slanted, 'I don't know where I'm going but I want to be there: The Expanding Field of Graphic Design', GRAPHIC, and the Journal of Visual Communication. He has been a visiting tutor at the Typography Summer School in New York and is currently Senior Critic in graphic design at the Yale School of Art.
Karen Di Franco is a curator and PhD researcher with Tate Britain and Reading University researching forms, strategies and contexts within artists' publishing. Recent projects include the group show, 'ORGASMIC STREAMING ORGANIC GARDENING  ELECTROCULTURE' (co-curated with Irene Revell), at Chelsea Space, London. She has written on Lee Lozano and Carolee Schneemann (Art Reviewand Art Monthly) and curated exhibitions on Carlyle Reedy, Annabel Nicholson and Marie Yates, (Flat Time House and Chelsea Space). She has recently completed an AHRC research fellowship at the Archives of American Art (Smithsonian), Washington DC. Other projects include Book Works online archive and publication Again, A Time Machine (2010-12).
Gertrude Gibbons is a writer and violinist based in York, previously living in London and Cromer. She is studying English Literature at the University of York, and has studied French Literature in Paris. A writer for Corridor 8, Gertrude also has a keen interest in Polish culture, abstract maths, negation of language and space, dimensionality of word, intermedial translation and processes of making. Her play, Plato's Cave, was performed at Arcola Theatre, Hackney, and her first novel The Phaistos Disk (Ankrapath Press 2012) explores ideas of time and historical narrative. She has recently finished a second novel about silence. She has given talks and workshops on creative writing at schools and participated in literary panel discussions. In 2018 with Derek Horton she relaunched the online magazine Soanyway which she co-edits. Gertrude is a member and co-founder of the experimental language group 'Slavia' based in Dalston, London.
Lina Hermsdorf Often mediated through lecture performances and text-based installations, Lina Hermsdorf's practice engages with characteristics of the living. Her essayistic works unfold narrative threads, which explore how power structures, technology and biological components interact with one another. She studied Theatre at the University in Giessen and Fine Arts at the Städelschule in Frankfurt. Recent shows include 'Doing things with words' Kunstverein Braunschweig (2018), 'State 0', Flat Time House (2017), 'Vantage Point', Künstlerhaus Bremen (2017), 'Immortalismus', Kunstverein Freiburg (2017), among other venues. She was part of the Symposium 'Women in Conceptual Art' at the Chelsea College of Arts and contributed to Pfeil Magazine 9 'Error', which will be released this summer.
James Hoff is an artist living and working in Brooklyn, NY. His work encompasses painting, sound, writing, and performance. He has maintained a strong focus on distributed forms and experiments with language, including cross-disciplinary investigations that address orally-transmitted syndromes, computer viruses, and ear worms. Hoff is also the co-founder of Primary Information, a non-profit arts organization devoted to publishing artists' books. As an editor, Hoff has overseen the publication of over a hundred books, many of which were facsimile editions of out-of-print works from the 1960s and 1970s.
Jeffrey Isaac is a painter and video artist. He often uses photorealism as a means to a conceptual inquiry of fantastical content with an absurdist approach. He is also the publisher of Public Illumination Magazine: Each issue has a unique theme with contributions by numerous artists using pseudonyms. It is included in the collections of the New York Public Library, Museum of Modern Art, New York, Pompidou Center, Paris, and others. Since 1979 there have been over sixty issues. Isaac has exhibited widely across the USA and Europe. His work incorporates a range of media, from digital art to oil on canvas; he is particularly known for his installations, often incorporating sound and performance as well as panoramas and dioramic cabinets.
Sean Lynch is an artist currently living in Brussels. Working at the intersection between installation, publication and curating, his various projects often platform little-known narratives or histories to challenge the hegemony of contemporary thought. He was educated at the Stadelschule in Frankfurt. Alongside representing Ireland at the Venice Biennale in 2015, he has held recent solo exhibitions at the Douglas Hyde Gallery, Dublin (2017), Charles H. Scott Gallery, Vancouver (2016), Rose Art Museum, Boston (2016), Royal Hibernian Academy, Dublin (2016) and Modern Art Oxford (2014), amongst others. He was recently Audain Distinguished Artist-In-Residence at Emily Carr University of Art and Design in Vancouver.
Joanna Pocock is an Irish-Canadian writer living in London via Toronto and Missoula, Montana. Her non-fiction has appeared in Cutbank,The Dark Mountain Project,Distinctly Montana,Litro,The London Sunday Independent,The Los Angeles Times,The Nation,Orion Magazine, and 3:AM, among others. She has been teaching creative writing at Central Saint Martins for fifteen years and has taught Genre Fiction at Bath Spa University and Life Writing at Roehampton University. In 2017 she was shortlisted for the Barry Lopez Narrative Non-Fiction Award. Her book-length essay 'Surrender' about extreme relationships between humans and the land in the American West is to be published by Fitzcarraldo Editions in 2019.
Giovanni Rendina is and independent curator. He read drama, art and music studies at Bologna University before studying for his MA in Curating & Collections at the Chelsea College of Art UAL, London (2015–2016).In March 2017 he curated the show 'A Slump'at Gelateria sogni di Ghiaccio, Bologna, inviting the London based artist Andrew Mealor to a solo presentation. While carrying out a year long curatorial traineeship assisting the program curator and directors in all aspects of running the Mahler & Lewitt Studios, he curated Mattia Pajè in Spoleto in the realisation of 'Do you come here often?', immersive installation part of Viaggiatori sulla Flaminia. In 2018 he curated'Cassata Drone', andindependent exhibition in Palermo, it involved Raqs Media Collective, Maria D Rapicavoli and Stefao Cagol. It was conceived by the visual artist g. olmo stuppia.
Jacopo Rinaldi lives in Rome where he works as an artist and researcher. He graduated with an MA in Visual Arts and Curatorial Studies at Naba in Milan. His research concerns the relation between memory, oblivion and architecture in the transmission of knowledge. He is editor and member of Mnemoscape, a research platform dedicated to contemporary art and visual culture exploring issues of memory, methodology and the archive.
Guy Robertson is founder and co-director, with Eva LeWitt, of the Mahler & LeWitt Studios program. Invited by David Gothard and Marina Mahler, he first worked in Spoleto as curator for the Anna Mahler Association (www.annamahler.org). He also works with the Estate of Howard Hodgkin and is editor of the forthcoming, multi-volume Prints and Unique Works Catalogue Raisonné. He ran a project space in London called Son Gallery which worked with artists such as Sophie Cundale, Cecile B Evans, Guy Gormley, JocJonJosch, Tom Lovelace, and Yuri Pattison amongst others. Publishing was part of the program at the gallery and this led to his initiative with the Copeland Book Market (www.copelandbookmarket.com). Upcoming Mahler & LeWitt Studios publications include an artists' book by Julie Born Schwartz, relating to her Festival di Spoleto 2018 project 'Ex-voto', and a collaboration between two former residents, photographer Oto Gillen and poet Rachael Allen.
Anthony Tremlett read Philosophy of the Political Economy at Exeter University (UK) before studying his MFA in Curatorial Studies at Goldsmiths University in London (2015-2017). His curatorial interests focus on art practices that display signs of critical thinking through seemingly irreverent attitudes towards their social and political environments, and often draws on the interplay between politics, science, art and culture. Recent projects include co-curated exhibitions at Laure Genillard Gallery including 'Dialogues with A Collection' (2018) and 'Object 77b' (2017), as well as solo curatorial projects such as the group exhibition 'Pressing Inertia' (2017) at EnclaveLab in Deptford, London, and '…only a signal shown…' (2016) at NX Projects, London.
Riccardo Venturi is Pensionnaire in history and theory of the arts at Académie de France – Villa Medici, Rome (2018-2019) and a post-doctoral scholar at Institut national d'histoire de l'art (INHA) in Paris (2012-2016). He has published Mark Rothko. Lo Spazio e la sua disciplina (Electa, Milan 2007), Black paintings. Eclissi sul modernismo (Electa, Milan 2008), Passione dell'indifferenza. Francesco Lo Savio (Humboldt Books, Milan 2018), and he recently co-curated the retrospective 'Francesco Lo Savio' at the MART in Rovereto. He contributes regularly to Artforum, Alias – Il Manifesto (with the rubric entitled Cristalli Liquidi) and www.doppiozero.com (Screen Tests blog).
Grace Weir is an artist whose work ranges from film and installation to experimental videos, lecture-performances and web projects. These are concerned with the nature of ideas and the ways in which thinking is materialised, so that the work often refers to the act of its own making and the mediums in which it is made.  She has a particular interest in scientific phenomena and the ways we construct, rationalise and experience time, and her work is informed by conversations and experiments with scientists, philosophers and practitioners from other disciplines. Weir was Artist-in-Residence in the School of Physics, Trinity College Dublin, 2013-15. She represented Ireland at the 49th International Venice Biennale and has exhibited widely nationally and internationally. Recent solo exhibitions include the Irish Museum of Modern Art in 2016 and Laure Genillard London 2017.
Holly Willats is an independent curator & writer, and the Director of the arts organisation, Art Licks. Having founded Art Licks in 2010, she has since edited 22 issues of its magazine, directed five editions of its London festival (the Art Licks Weekend) and produced and curated various artist events, including those at the Victoria & Albert Museum, and Institute of Contemporary Art. Last year, she carried out a curatorial residency at FLORA ars+natura in Bogotá, Colombia (funded by Arts Council England & the British Council). She curated 'At Home | Em Casa'across London and São Paulo (2018); 'On the heights', Yorkshire Sculpture Park, Wakefield (2017); 'On Board', Crispr, Bogotá (2017); and co-curated the exhibition 'House Work', 53 Beck Road, London (2017). She has recently written articles forArt Monthly andArtQuest on research in São Paulo, Brazil, and Lisbon, Portugal.