Take 3
Diane Madden and Matthew Burdis
First shown: Cathy Weis Projects, NYC, 11 November 2018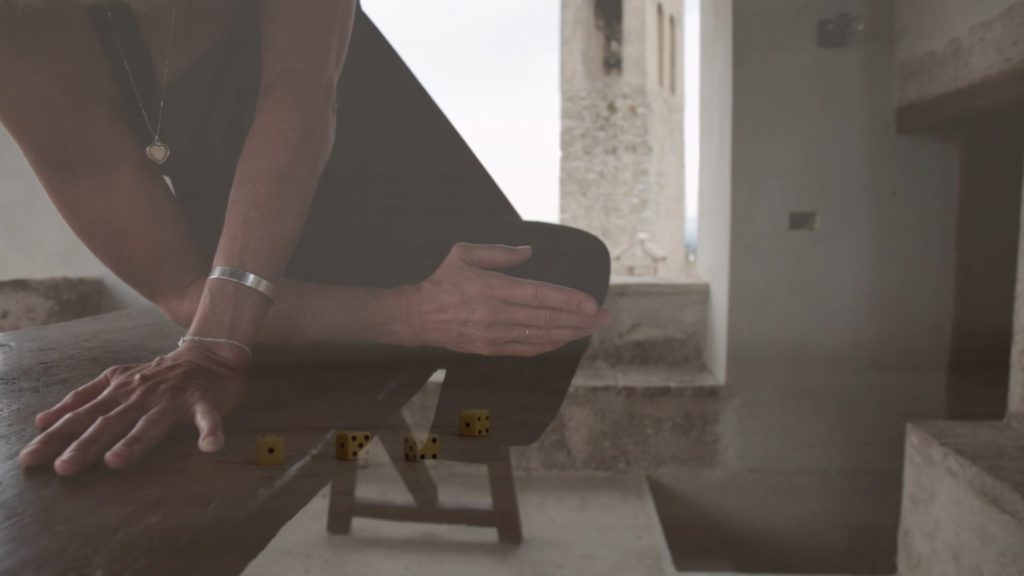 Take 3
is a collaborative work between choreographer and dancer Diane Madden and artist-filmmaker Matthew Burdis. They met through the residency program at the Mahler & LeWitt Studios in 2017 and the work was developed in a further residency in August 2018. It places a slow-motion dance, in which Diane moves from one set position to another (originally performed in New York in 2017 at
Sundays on Broadway,
Cathy Weis Projects
),
into the Torre Bonomo in Spoleto, a medieval tower in which Lorenzo and Marilena Bonomo hosted exhibitions and residencies with artists including Jannis Kounellis, Sol LeWitt and Nunzio. It was premiered in Cathy Weis Projects, NYC, in
November
2018.
Diane Madden
is a performer, choreographer, director and teacher based in NYC. Currently Associate Artistic Director of the Trisha Brown Company, she has contributed to the creation and performance of Trisha Brown's work since 1980. She presents her own solo and collaborative choreography at home and abroad and has enjoyed working with choreographers Jerome Bel, Lance Gries, Juliette Mapp, Polly Motley, Vicky Shick and Cathy Weis. Madden's teaching weaves anatomically grounded technique with improvisation, composition and performance skills. Her worldwide students range from dance artist professionals and college students to artists from other disciplines including actors, singers, visual artists and composers. Since 2006, Madden has been greatly influenced by her study and practice of Aikido with Fuminori Onuma. The Princess Grace Foundation has recognized Madden with two awards, in 1986 and again in 1994 for sustained achievement. She also received a New York Dance and Performance Award (Bessie) in 1989.
Matthew Burdis
(b. 1993, Newcastle upon Tyne) is an artist filmmaker. He studied at Chelsea College of Art and Design. After receiving the Landmark PLC Award for his silent black and white film 'Lindisfarne One One' he received funding through Channel 4 to make a film in partnership with the Insti­tute of Contemporary Arts (ICA), London, as part of the Random Acts Programme. He is now working on a major project commissioned by the Mahler Foundation: a feature length film responding to the places where Gustav Mahler composed and lived. He is also working on an Elephant Trust funded series of 16mm films with pho­tographer John Baker. He convenes the Chelsea Film Forum at Chelsea College of Art and Design and has screened his own work across the UK and Europe.