Adam Gibbons
Artist in Residence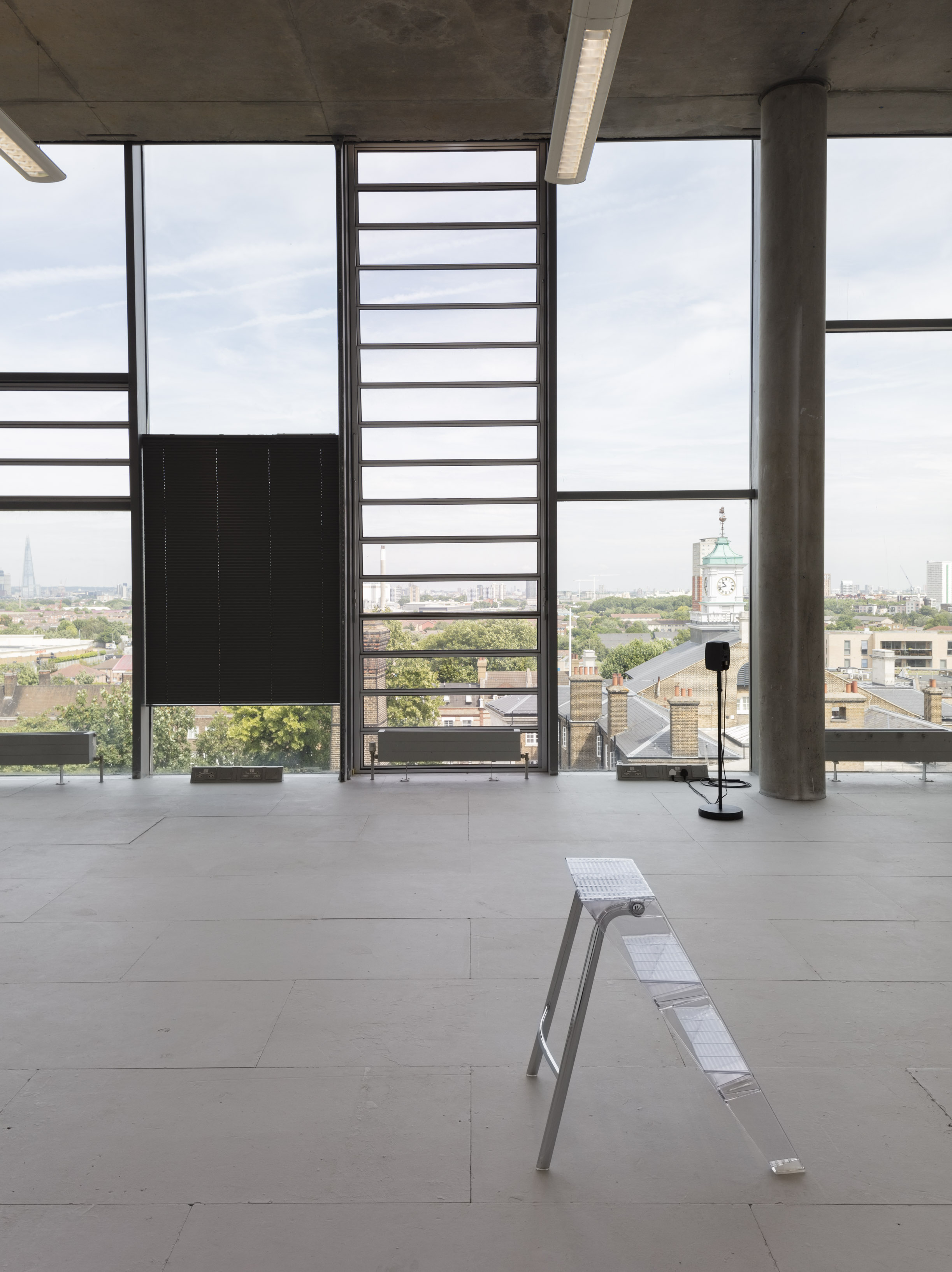 Pictured: 'I look up, I look down, I look up, I look down' (2017). It was part of Gibbons's MFA degree show at Goldsmiths College. The installation comprised of an audio work, fluorescent ceiling lights that were timed to correspond to the overhead flight of Google's first satellite GeoEye 1; and an electronic venetian blind moving automatically in response to what are statistically considered the 'best' times to day-trade stocks on the market.
Artist website: adamgibbons.net
Am Nuden Da: amnudenda.com
" ": quotationmarkquotationmark.com
Adam Gibbons is an artist, writer and lecturer based in London. His practice often manifests itself as tactful impingements on the work of other artists or their exhibitionary surroundings. Gibbons is co-commissioning editor, with Eva Wilson, of the publication " ", an ongoing series of books about art, publishing and dissemination. He is a founding member of the artist group Am Nuden Da, who have been exhibiting interntionally since 2008.
Gibbons teaches at London College of Communication on BA (Hons) Design for Art Direction. He completed an MFA in Fine Art at Goldsmiths College, University of London in 2017. Recent projects and exhibitions include the publication of " " #2 James Hoff / Marian Kaiser; #4 GCC; and #5 Badlands Unlimited (all NERO, Rome, 2018), accompanied by readings and discussions at Pro qm, Berlin; the NY Art Book Fair, MOMA PS1 New York; Tenderbooks, London; geh8 Kunstraum, Dresden; and the PrintRoom, Rotterdam. Exhibitions with Am Nuden Da include: RETROSPECTIVE w/ Tyler Coburn, Viola Yesiltaç, xxxxxxxxx at Chelsea Space, London (2017); and Micro Composition, curated by Cally Spooner, Reykjavík International Film Festival, Iceland (2017). Gibbons has recently written on the work of Revital Cohen and Tuur Van Balen.