Jeffrey Isaac in conversation with Jo Melvin
Green Room, Chelsea College of Arts, 16 John Islip St, London SW1P 4JU:  Tuesday 31 January, 2017, 4.45 – 6:00pm
 To coincide with the Chelsea College of Arts Library display: Exchanges between Sol LeWitt and Jeffrey Isaac in Spoleto, Italy, and New York and Chester, Connecticut USA (On display until 14 February).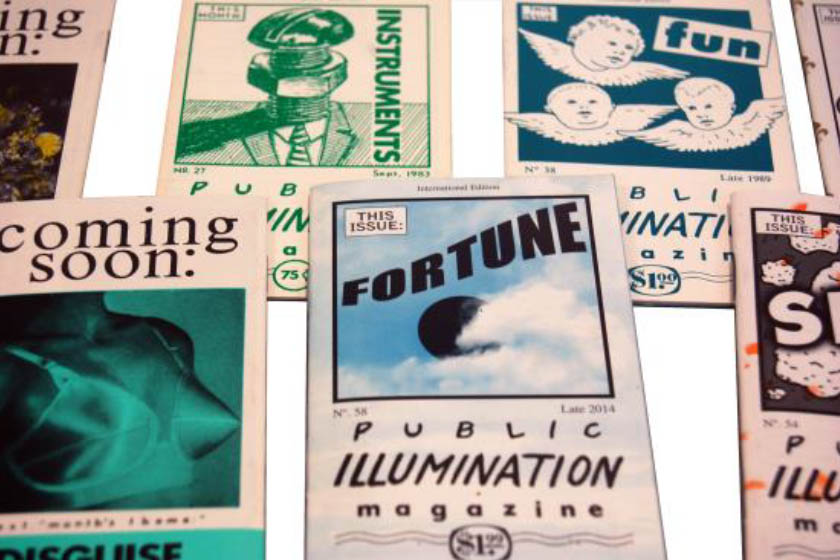 Sol LeWitt and Jeffrey Isaac were neighbours and friends in New York, USA and also in Spoleto, Umbria, Italy. This display documents Sol LeWitt wall drawing 806# in Isaac's collection and shows a few of the special collection and library's holdings of Sol LeWitt books. LeWitt publications displayed are '100 Cubes', 'Autobiography', Artforum October 1981, 'Four Basic Kinds of Lines & Colour', 'Lines & Color', and 'PhotoGrids'. Also showing are Jeffrey Isaac's imprint, PIM (Public Illumination Magazine) the smallest magazine of its kind.
Jeffrey Isaac met Sol LeWitt through Printed Matter, the artists bookshop in New York that was founded by LeWitt and Lucy Lippard amongst others. He came into the shop with copies of PIM. LeWitt and Isaac were neighbours in New York and in Spoleto, Italy, where LeWitt lived from the mid 1980s for several years, thereafter returning for 3-6 months each year. Isaac moved to Spoleto in 1986 where he has since lived permanently. The two formed a close friendship and had an on going dialogue. This display brings their publications together – for the first time in London. Coincidentally Isaac studied for a year at Camberwell in 1975-76 in the painting department when he made a series of works spanning across London, notably a series of lines in various sites including the National Gallery and Trafalgar Square.
Jeffrey Isaac will be speaking about his work with Jo Melvin in the Green Room at Chelsea, CCW on January 31 2017, at 4.45.
The display and conversation are arranged by Jo Melvin, Reader in Fine Art, Archives and Special Collections at Chelsea College of Art and resident at the Mahler & LeWitt Studios in 2016.