Copeland Book Market
Your library and its secrets, an archaeological dig
26 – 27 June, 1 Via Fillitteria, Spoleto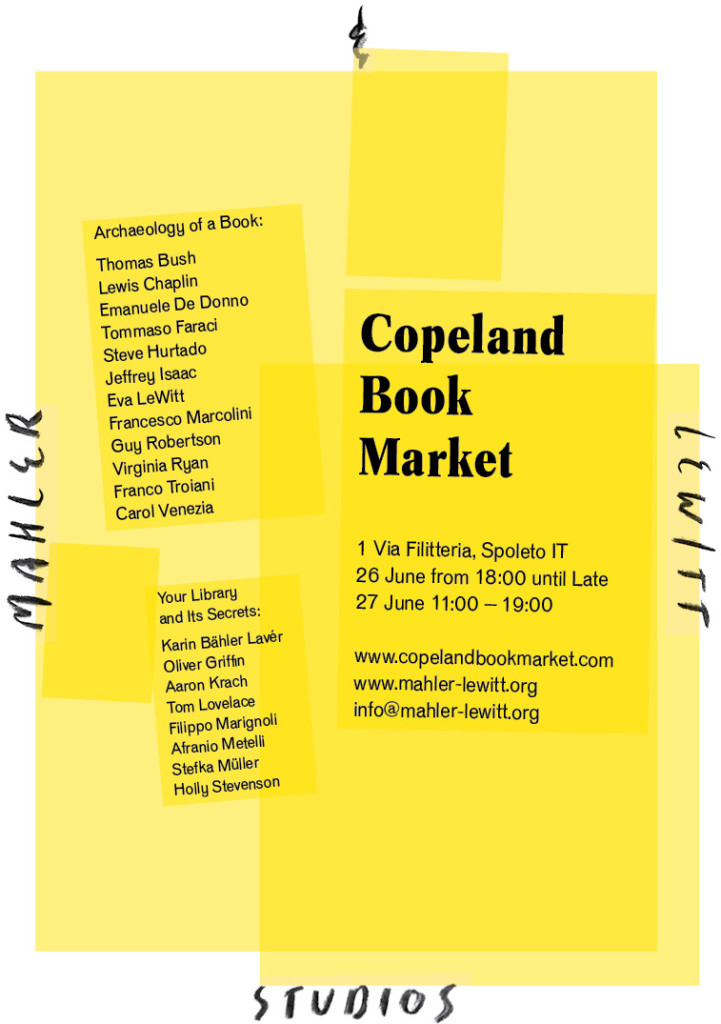 Book displays: Thomas Bush, Emanuele De Donno, Tommaso Faraci, Steve Hurtado, Jeffrey Isaac, Eva LeWitt, Francesco Marcolini, Guy Robertson, Virginia Ryan, Franco Troiani, Carol Venezia
Exhibition: Karin Bähler Lavér, Oliver Griffin, Aaron Krach, Tom Lovelace, Stefka Muller and Holly Stevenson
Sketchbooks: Enrico Arcioni, Filippo Marignoli, Afranio Metelli
The Copeland Book Market, a platform for discussing and sharing ideas in the arts through printed matter and publishing, were invited to create a site-specific event in a disused shop in Spoleto. They chose the theme: 'Your library and Its secrets: an archaeological dig'. The event involved over 30 artists and writers and included rare artists' books, sketchbooks and an exhibition.
Website: copelandbookmarket.com
Archaeology of a Book
"Thus I rediscovered what writers have always known (and have told us again and again): books always speak of other books, and every story tells a story that has already been told." Umberto Eco, Postscript of Name of the Rose. Taking Eco's aphorism as a starting point CBM asked Umbrian based artists and writers as well as those visiting with the Mahler & LeWitt Studios to take us on a personal journey through their private library. Each individual displayed their selection of books alongside a short text which described how the related one book to another or why they are of personal significance.
Umbrian Sketchbooks
The Metelli family lent us sketchbooks and scrapbooks by the Pissignano-born artist Afranio Metelli which give a unique insight into his work. The Marignoli di Montecorona Foundation loaned a sketchbook which belonged to Filippo Marignoli, who in the 1950s worked from Spoleto. It offers an unusual perspective on Marignoli's creative work and the sketchbook was accompanied by a new text written by Michele Drascek, Chief Curator of the Foundation. Franco Troiani loaned three sketchbooks by the painter and engraver Enrico Arcioni, born in Spoleto in 1875, who became the last Russian Tsar's portraitist.
Your library and its Secrets (exhibition)
Each work in the exhibition that dotted the walls of the temporary space on Via Filitteria responded to the theme and particularly to the notion of disappearance and preservation in the context of books and Spoleto.
Artifacts at the End of A Decade
Carol Venezia and Steven Watson, the publishers of the boxed multiple Artifacts at the End of A Decade which contains the work of 44 artists, loaned CBM this extraordinary series of artworks. Conceived in 1979 and published in 1981, it includes works by Laurie Anderson, Robert Wilson, Sol LeWitt, R. Crumb, Lucinda Childs, Futura 2000 and other graffiti artists, John Ashbery, Betsey Johnson, Robert Kushner, Martha Rosler and others.