Michelangelo Miccolis
artist in residence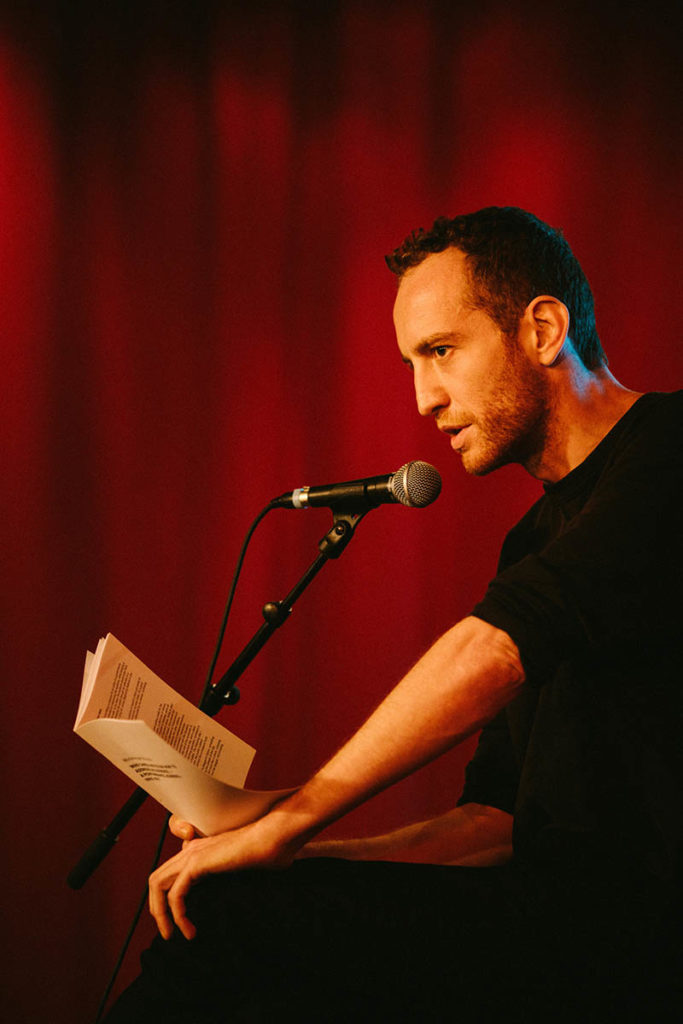 Michelangelo Miccolis at Karmaklubb* #27, Kulturhuset, Oslo. Photo: Julie Hrnčířová. Courtesy the artist, osloBIENNALEN / Karmaklubb* 2019.
Michelangelo Miccolis (1981, Mexico City) performance-based practice extends into various formats, from participatory happenings to writing, production and curation. He joins us in Spoleto to develop new work and to explore the towns' histories of performance, with nick von kleist, in preparation for 'the SHED' residency at the Mahler & LeWitt Studios this summer.
Michelangelo is currently working on new writing about performance, specifically, a text reflecting on labor, relationships and care titled The Performances I Missed. Miccolis' previous publication, commissioned by osloBIENNALEN, WHO CARES: Notes on how to address an audience – A performance journal, 1992-2017, explores his intertwined roles as performer, curator, producer and care-taker of performance work, asking not only who cares about performance but questioning the relationships and standards held by those participating in, and engaged with, performance.
As of 2020 Michelangelo joined the Shedhalle (Zurich) curatorial board; upcoming projects include The Army of Love, in collaboration with Ingo Niermann and OFFSHORE, in collaboration with Cally Spooner. He initiated 'the SHED' online performance space for Shedhalle and is mentor for 'the SHED' Mahler & LeWitt Studios residency 2021.
From 2017 until 2019 he was guest-curator for Cabaret Voltaire (Zurich). In 2017 Michelangelo founded IMMATERIAL, an annual performance program at Material Art Fair in Mexico City.
Since 2005, he has worked internationally on projects by renowned artists and institutions including: Dora García, Tino Sehgal, Christodoulos Panayiotou, Carlos Amorales, Romeo Castellucci & Socìetas Raffaello Sanzio, Venice Biennale, Fondazione Trussardi, Tate Modern, Palais de Tokyo, Museo Reina Sofia, Gropius Bau, Centre d'Art Contemporain Geneva, Estancia Femsa and Università Iuav di Venezia.