Heather McCalden
2021 Fitzcarraldo Editions / Mahler & LeWitt Studios Essay Prize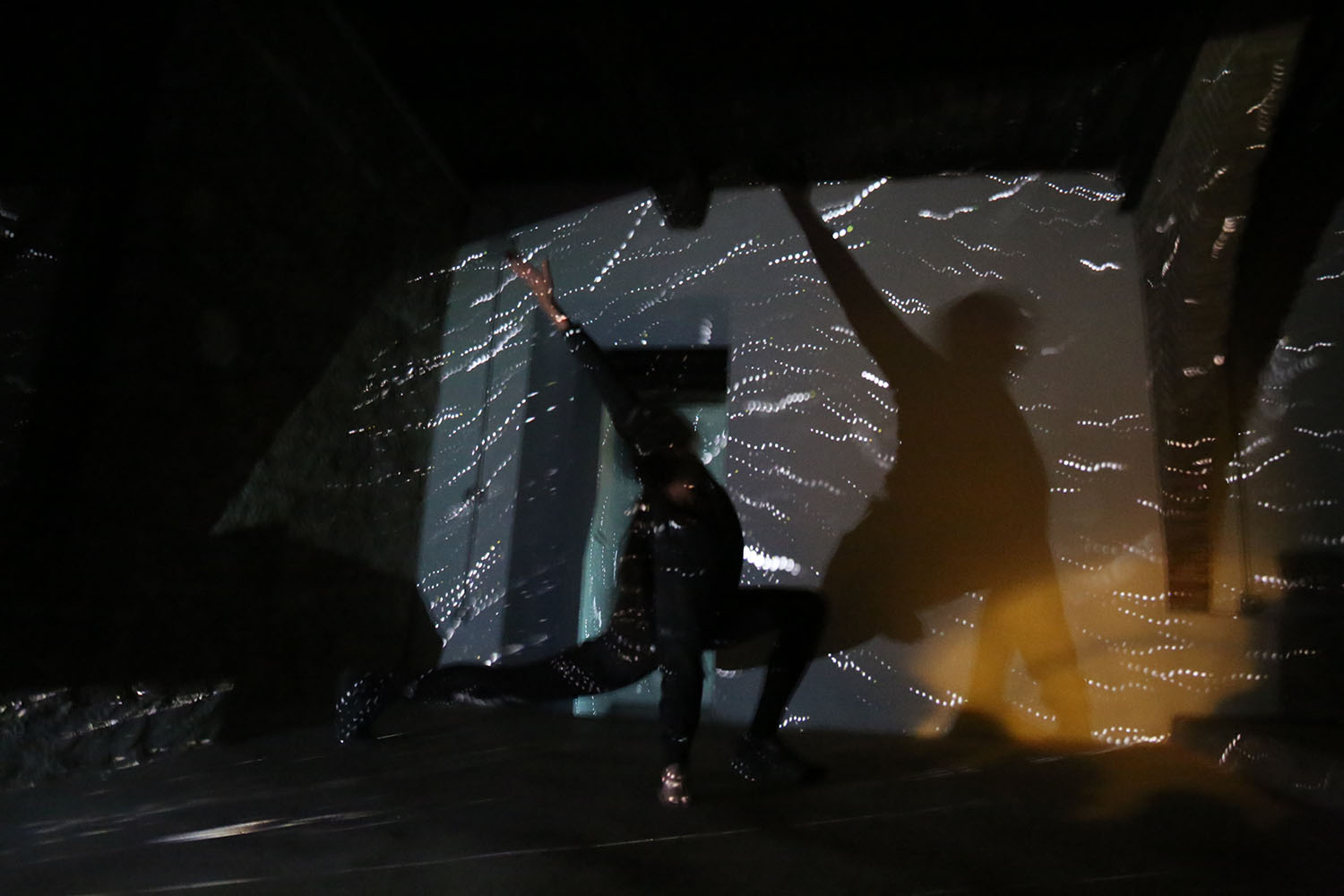 Heather McCalden was awarded the 2021 Fitzcarraldo Editions/Mahler & Lewitt Studios Essay Prize and Residency for her proposal The Observable Universe, a prismatic account of grief conveyed through images, anecdotes and Wikipedia-like entries. Centred on the loss of her parents to AIDS in the early '90s, The Observable Universe questions what it means to 'go viral' in an era of explosive biochemical and virtual contagion. The book will be published by Fitzcarraldo Editions.
During her residency in Spoleto, Heather continued editing her book and also worked on a series of new performances, one of which she presented at her Open Studios event (pictured above). These performances were loosely inspired by the landscape surrounding Spoleto and, in particular, the medieval grottoes, built into the side of the neighbouring mountain, used by monks for spiritual retreat.
Artist Biography
Heather McCalden is a multidisciplinary artist working with text, image and movement. She is a graduate of the Royal College of Art (2015) and has exhibited at Tanz Company Gervasi, Roulette Intermedium, Pierogi Gallery, National Sawdust, Zabludowicz Collection, Testbed 1, Flux Dubai and Seattle Symphony Orchestra. In 2017 she attended the Emerging Writer's Intensive at the Banff Centre for the Arts and returned in 2018 for their Late Summer Writer's Residency. In January 2021, she was a scholar at the Tin House Winter Workshop.
The Fitzcarraldo Editions/Mahler & Lewitt Studios Essay Prize is an annual competition for unpublished writers. Initially made possible by an Arts Council Grant in 2015, the prize awards £3,000 to the best proposal for a book-length essay (minimum 25,000 words) by a writer resident in the UK & Ireland who has yet to secure a publishing deal. In addition to the £3,000 prize the winner has the opportunity to spend up to three months in residency at the Mahler & LeWitt Studios in Spoleto, Italy, to work on their book. The book will then be published by Fitzcarraldo Editions. The other shortlisted authors, chosen out of 119 entries, are:
– Q is for Garden by Jenny Chamarette, an essay which re-evaluates the millennia-old relationship between sexuality, culture, and cultivation through the stories of queer gardens, queer gardeners, and forms of queer cultivation. Jenny Chamarette is a writer, scholar and curator, based in London.
– The Report by Joshua Craze, an investigation into the act of reporting, revealing the poetry of factual creation and the way knowledge and facts are put to use by the international community. Joshua Craze has spent ten years working as a conflict researcher in Sudan and South Sudan for humanitarian organizations; The Report deals with this experience. His writing on art, war, and literature have appeared in n+1, Cabinet, and the Guardian. His Grammar of Redaction, which examined the strange linguistic categories of the redacted documents of the war on terror, was exhibited at the New Museum, New York, and he has written catalogue essays for Jenny Holzer's redaction paintings. He has had residencies at Dar al-Ma'mûn, Marrakech, where he was the UNESCO artist laureate in creative writing; Art OMI, New York; and, most recently, at the Embassy of Foreign Artists, in Geneva, where he began research for a new project in the archives of the United Nations High Commission for Refugees.
– Terra Nullius by Joanna Pidcock, an essay about the act of claiming land and the repercussions of that act through generations, exploring issues of land ownership, colonization and immigration in the UK and Australia through the author's exploration of her family history and observances of contemporary city dwelling. Joanna Pidcock is an Australian theatre director, dramaturg, librettist and essayist based in the UK. She writes about nationhood and identity through the lens of landscape and horticulture, and is currently learning to propagate plants.
– The Raven's Nest by Sarah Thomas. Blending memoir, anti-memoir, nature writing and narrative non-fiction, and set in Iceland's Westfjords, The Raven's Nest weaves various relationships between people, creatures, land and time in a meditation on language and place. Sarah Thomas grew up in Kenya and apprenticed herself to writing – and to really listening – in Iceland. Coming to writing via anthropology and film, she makes work with the living world, taking her cue from its cycles and tempos. Longlisted for the inaugural Nan Shepherd Prize, her work has also been published in the Guardian, Ós Journal, and Driftfish: A Zoomorphic Anthology and is featured in the upcoming anthology Women On Nature, edited by Katharine Norbury. She spent the first lockdown of 2020 at a heronry, discovering a different kind of time.
– Broken Rice by April Yee, an essay which explores colonialism, culpability and neurodivergence through loosely associated lyric fragments. Ranging from popular culture to economics, Broken Rice measures the distance, if there is one, between civilized and criminal actions, public and private traumas. April Yee is a writer and translator with work in or forthcoming from Guernica, Electric Literature, and Ploughshares online. She reported in more than a dozen countries before moving to the UK, where she mentors for University of the Arts London's Refugee Journalism Project.
The judges are Joanna Biggs, Brian Dillon, Joanna Kavenna, Max Porter and Jacques Testard. The judges are looking for essays that explore and expand the possibilities of the essay form, with no restrictions on theme or subject matter. The Fitzcarraldo Editions/Mahler & LeWitt Studios Essay Prize aims to find the best emerging essay writers and to give them a chance to develop and showcase their talent. It also provides the winner with their first experience of publishing a book, from the planning, research and writing of it through to the editing, production and publicity stages.
Thea Lenarduzzi was awarded the 2020 Fitzcarraldo Editions/Mahler & LeWitt Studios Essay Prize with her proposal for Dandelions, a family memoir and social history about two women piecing together themselves and each other from the fragments of four generations' worth of migration between Italy and England, and the stories scattered along the way. The other shortlisted entries were Not Revolving by Rashed Aqrabawi, Black Space in the Basement by Elliot C. Mason, Which As You Know Means Violence by Philippa Snow, We Blew Them Into Shards of Dust by Sean Stoker and Mrs Gargantua: Cuba, the United States and the New Man by JS Tennant. The 2020 Essay Prize was judged by Joanna Biggs, Brian Dillon, Joanna Kavenna, Paul Keegan and Jacques Testard.
In 2019, Polly Barton was awarded the fourth iteration of the Essay Prize for Fifty Sounds, an attempt to exhaust her obsession with the country she moved to at the age of 21, before eventually becoming a literary translator. From min-min, the sound of air screaming, to jin-jin, the sound of being touched for the very first time, from hi'sori, the sound of harbouring masochist tendencies, to mote-mote, the sound of becoming a small-town movie star, Fifty Sounds is a personal dictionary of the Japanese language, recounting her life as an outsider in Japan. Fifty Sounds was published by Fitzcarraldo Editions on 14 April 2021. The other four shortlisted entries were On Lunar Thinking by Amy Budd, There is California Champagne: Dignity and Work at the End of the World by Michael Docherty, Tender as Memory by Maria Howard, and Common Periwinkle by Bryony White. The 2019 Essay Prize was judged by Joanna Biggs, Brian Dillon, Joanna Kavenna, Paul Keegan and Jacques Testard.
In 2018, Joanna Pocock won the prize for Surrender, a narrative non-fiction work on the changing landscape of the West and the scavenger, rewilder and Ecosexual communities, inspired by a two-year stay in Montana. Surrender was published by Fitzcarraldo Editions in May 2019. The other five shortlisted entries were A Woman's Place by Rachel Andrews, Oliver Basciano's Tichileşti, Felix Bazalgette's Natural Magic, Gay Bar by Jeremy Atherton Lin, and Rebecca Perry's Four Invocations. The 2018 Essay Prize was judged by Joanna Biggs, Brian Dillon, Joanna Kavenna, Paul Keegan and Jacques Testard.
In 2017, Katy Whitehead was awarded the prize for Adventures in Synthetic Fun, an essay exploring the concept of 'synthetic fun' coined in the 1960s by Jeremy Sandford, and the changing nature of fun in an era of increasing automation, disputed oppression, widespread affective labour, illusory meritocracy, costly social mobility, divisive politics, and a degraded imagination. The other four shortlisted entries were Wolf: An Anatomy of an Illness by Elinor Cleghorn; English as a Foreign Language by Evan Harris; Other, Mixed by Will Harris; and Possession by Rebecca Ley. The 2017 Essay Prize was judged by Joanna Biggs, Brian Dillon, Joanna Kavenna, Paul Keegan and Jacques Testard.
In 2016, Matthew McNaught was awarded the inaugural Fitzcarraldo Editions Essay Prize for Immanuel, an essay about faith, doubt and radical religion, inspired in part by his experiences growing up in an evangelical Christian community in the south of England. The other four shortlisted entries were Corona by Felix Bazalgette; Bad For You by Alice Hattrick; Growing up Modern by Jennifer Kabat; and Double-Tracking by Rosanna Mclaughlin. The 2016 Essay Prize was judged by Joanna Biggs, Brian Dillon, Paul Keegan, Ali Smith and Jacques Testard.
EDITORIAL COMMITTEE
Joanna Biggs is a writer and editor at the London Review of Books, and co-founder of Silver Press. Her book about the way we work, All Day Long, was published by Serpent's Tail in 2015.
Brian Dillon is a writer and critic. His books include Essayism (Fitzcarraldo Editions, 2017), The Great Explosion (Penguin, 2015), Objects in This Mirror: Essays (Sternberg Press, 2014), Sanctuary (Sternberg Press, 2011), Tormented Hope (Penguin, 2009) and In the Dark Room (Penguin, 2005; Fitzcarraldo Editions, 2018). He teaches creative writing at the Queen Mary. Suppose a Sentence, a critical and personal reflection on the art of the sentence in literature, was published by Fitzcarraldo Editions in autumn 2020.
Joanna Kavenna is the author of The Ice Museum (Viking, 2006), Inglorious (Faber & Faber, 2007), The Birth of Love (Faber & Faber, 2011), Come to the Edge (riverrun, 2012), A Field Guide to Reality (riverrun, 2017) and Zed (Faber & Faber, 2019). Her writing has appeared in the New Yorker, Guardian, Observer, Telegraph, Spectator, London Review of Books and New York Times and she has held writing fellowships at St Antony's College Oxford and St John's College Cambridge. In 2011 she was named as one of the Telegraph's 20 Writers Under 40 and in 2013 was listed as one of Granta's Best of Young British Novelists. She lives in Oxfordshire.
Max Porter's first novel, Grief Is the Thing with Feathers, appeared with Faber & Faber in 2015 and won the Sunday Times/Peter, Fraser + Dunlop Young Writer of the Year, the International Dylan Thomas Prize, the Europese Literatuurprijs and the BAMB Readers' Award and was shortlisted for the Guardian First Book Award and the Goldsmiths Prize. His second novel, Lanny, appeared with Faber & Faber in 2019 and was longlisted for the Booker Prize. An essay, The Death of Francis Bacon, was published in 2021, also with Faber & Faber. Max lives in Bath with his family.
Jacques Testard is the publisher of Fitzcarraldo Editions and a founding editor of The White Review.