Dom Bouffard
Artist in Residence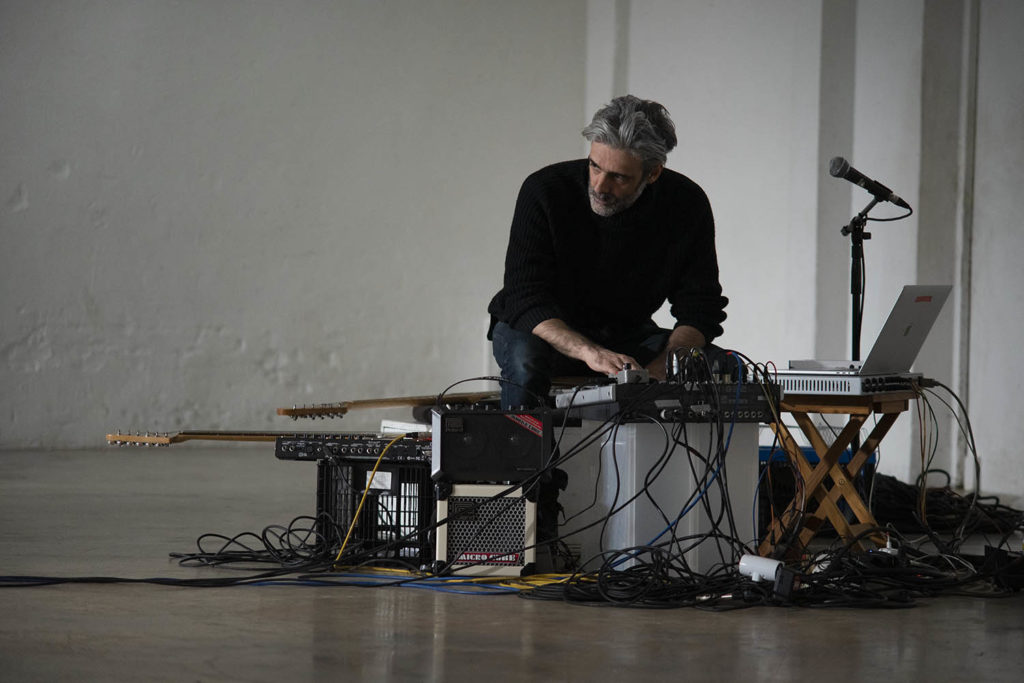 Artist website: dombouffard.com
Dom Bouffard is a London born, Anglo-French guitarist, composer and sound artist. His work, which he describes as fractured punk, draws inspiration from many sources, including no-wave, improvised music, minimalism, acousmatics and noise. Often focusing on the use of prepared instruments, extended techniques and sonic dialogue with physical environments, he attempts to honour the electric guitar's unique outlaw symbolism and heritage, while searching for new shapes.
In the early 2000's he founded UK rock band Sona Fariq, later joining Queen Adreena, touring with both, worldwide. He has since worked with artists including Lou Reed, Rufus and Martha Wainwright, Daniel Hope, Lady Gaga and Coco Rosie and Budgie (Banshees/Slits/Creatures).
Along side stand-alone work, he has worked at the cutting edge of theatre and contemporary dance with artists including Robert Wilson, Victoria Chaplin and Aurelia Thierée, Charles Chemin and choreographers Marianna Kavallieratos and Jayne Porte. His radio works have been shortlisted for the Karl Szcuka and Kriegsblinden prizes. Tower of Babel, a collaboration with Wilson, won the 2017 Deutscher Hörspielpreis and his new multichannel immersive guitar work Vengeful Ghost was recently performed at Snape Maltings's Festival of New.
His compositions have been performed by major interpreters including Ludi Quartet Kernow and Sergio Sorrentino. He has performed and exhibited work at venues including Musée du Louvre, Berliner Festspieler, Berliner Ensemble, BAM (NY), Théatre de la Ville (Paris), Watermill Center (NY), CPR (NY), Menagerie de Verre (Paris) and National Theatre Craiova (Romania) among many others.
He is currently researching use of embodied controllers for manipulation of sound in space at Iklectik Art Lab, London, in partnership with Amoenus and has an MMus in Music (Creative Practice) from Goldsmiths University of London.He is lead singer snd guitarist of London-based duo, Emperors of Rome.