Daniela Ruiz Moreno
Curator in Residence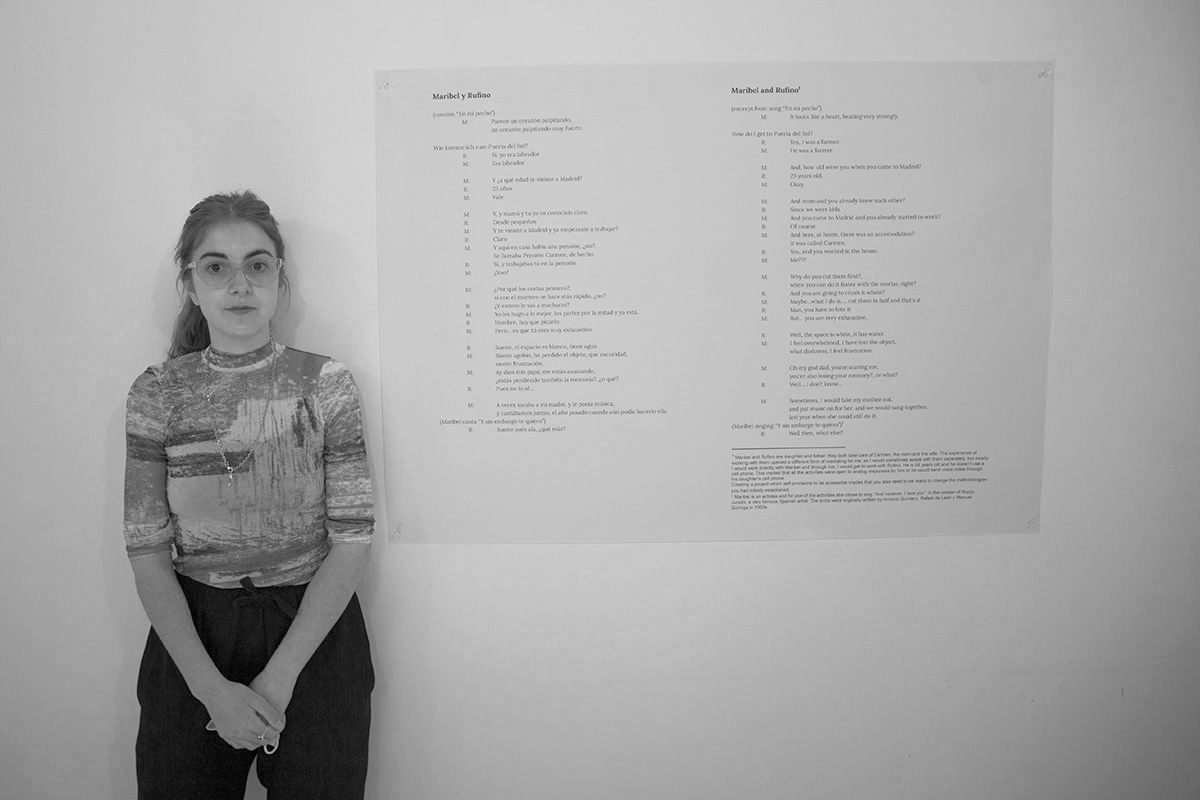 Curator in residence Daniela Ruiz Moreno is working on a participatory art program 'Cuidadorxs Invisibles' (Invisible Exchanges of Care) in Madrid; the program develops projects with people suffering from degenerative diseases and their carers. For our Open Studios, Daniela held a listening session of the Archive of Care, a collection of sound portraits which result from the program. As part of her residency, Daniela had spent time reflecting on her recent programming in Madrid and developing footnoted transcripts of the sound pieces (pictured above in exhibition at the Open Studios) in order to explore new uses and entry points to the archive.
Daniela also spent time developing a project with artist and former resident Joshua Leon, who visited us again this spring; rooted in olive production in the Valle delle Umbria, the project will form part of our Materia program, which launches later in 2022. She is pictured below in conversation with visiting artist Abbas Zahedi and Leon.
Biography
Daniela Ruiz Moreno is an independent curator from Argentina. She is interested in collaborating with artists who deal with day-to-day experiences and concerns, generating alternative narratives and ways of seeing the world. Her projects articulate sustained periods of research, with presentations taking place in art venues, in the public sphere and online. She is currently curator of the participatory art program Cuidadorxs Invisibles in Madrid; supported by Fundación "la Caixa" and La Casa Encendida, Spain, the program develops projects with people suffering from degenerative diseases and their carers. In Argentina, Daniela was curator of residencies at Fundación 'ace and in 2019 she received a Brooks International Fellowship to join the Tate Exchange team at Tate Modern. She has contributed to a variety of publications on topics such as the politics of food (CCEMx), community arts (hablarenarte) and net.art (Digital Arts Center, Taipei). She has been a curator in residence at Delfina Foundation (London), demolición/construcción (Argentina), Guanlan Printmaking Base (Shenzhen), and has participated in the Shanghai Curators Lab (Shanghai).