Adelaide Cioni
Artist in Residence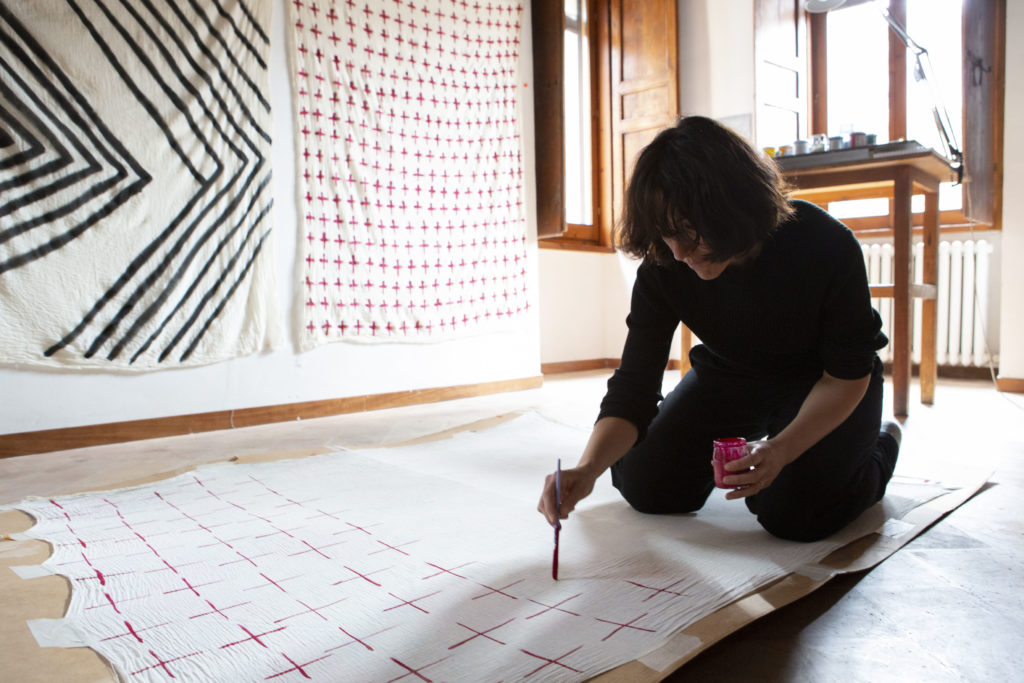 Artist website: adelaidecioni.com
THE BASSLINE OF EXISTENCE – Adelaide Cioni in conversation with Guy Robertson, curator from the Mahler & LeWitt Studios.
Visual artist Adelaide Cioni (pictured above, working in the Sol LeWitt studio) joined us in Spoleto for our Spring 2021 session to continue her research into decoration and patterns. She began these investigations with her Ab ovo series (2020 – ongoing), which explores visual codes, shared by different cultures across the globe, that recur through the centuries. To date, her research has taken form as large stitched canvases, etchings on diaposlides, drawings, modular structures and costumes.
In Spoleto, Cioni focussed on the Umbrian town and its surroundings. Making large-scale textile pieces, she worked towards an artist's book, to be published by Viaindustriae with the support of the Mahler & LeWitt Studios, which will be presented in 'The Feuilleton: I will bear witness: Piggy-backing-from the Edicola', curated by Jo Melvin (Spoleto, June 2021). This work will also involve the creation of costumes for a performance in collaboration with dancer and movement director Typhaine Delaup, which is being developed as part of The Empty Project.
During her residency Cioni began an informal collaboration with composer in residence Dom Bouffard, who uses drawing as a tool in his live-compositions. She also made a series of pieces in response to the LeWitt wall drawings in the Torre Bonomo, some of which will be exhibited during the 2021 Festival dei Due Mondi in Spoleto.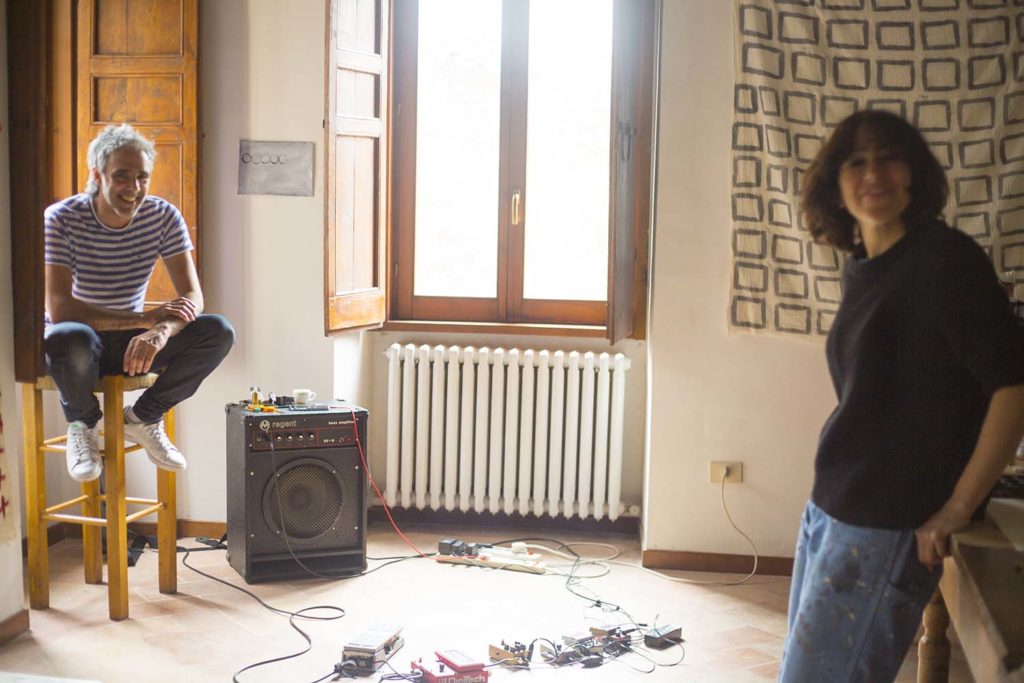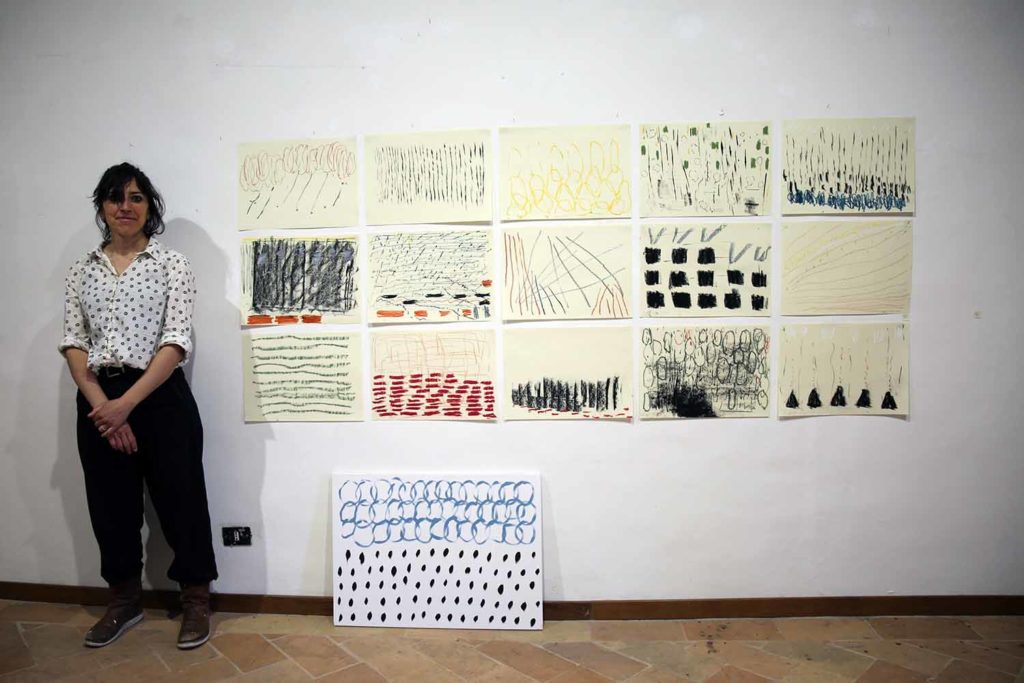 Pictured above LtoR: Adelaide's work in progress in the LeWitt studio, working with Dom Bouffard, drawings made in response to compositions played by Bouffard.
Adelaide Cioni studied drawing at UCLA, Los Angeles, and holds a BA in Sculpture from the Academy of Fine Arts in Rome. With an MA in Contemporary History and a master's degree in Literary Translation, for ten years she translated American literature (John Cheever, David Foster Wallace, Lydia Davis, AM Homes, among others). In 2012 she finished the translation of Cheever's journals and decided to quit translating literature in order to focus on her art. In 2014 she was resident for six months at Cité internationale des arts, Paris, and won the Premio Celeste. In 2015 she was resident in Villa Sträuli, Switzerland. In 2016, she moved to Umbria and opened, with Fabio Giorgi Alberti, a gallery/studio called "Franca". She is represented by P420, Bologna. Her work is currently on view in the show Io dico io – I say I, curated by Cecilia Canziani, Lara Conte and Paola Ugolini at the Galleria Nazionale, Rome.